Fall Porch Decorating Ideas to Get You Ready for Autumn
The shift of seasons makes us appreciate every last warm and temperate day—especially as the days begin to shorten and the undeniable crisp in the air tends to linger a little longer with every passing day. That, combined with the beauty of the changing fall foliage and golden-hued landscape makes the fall the perfect time to get cozy on the porch and really lean into everything the transitional season has to offer before winter sets in. 
1. Mix Evergreen and Seasonal Plants
An easy way to decorate for the autumn without the need to drop a ton of cash is with plants, especially a mix of evergreen and seasonal. For example, potted plants and container gardens are always in season and even if your region is still quite cold, you can try evergreen cuttings or an arrangement that features pinecones and other non-living garden elements and mix it with some decorative gourds to get into the swing of the fall season. 
2. Repurpose Furniture
Looking for a simple way to increase the aesthetic and functionality of your porch as you welcome the colder months? An easy and affordable way to decorate your porch for the autumn months is to add in functional furniture that is both beautiful and inviting. DIY is in right now—and if you can't go thrifting, you might even have some indoor furniture that can be repurposed with a coat of all-weather paint to withstand the colder weather. 
3. Go for Functionality
Placing a wicker chair on your porch with warm colored plaid blankets and pillows can add that perfect punch of cozy decor. This will also serve as a functional addition to your porch as you can pop outside and enjoy a nice cup of coffee while enjoying the crisp fall air. 
4. Pumpkins of Varying Sizes
Considering adding a couple of pumpkins to your fall porch? Try to vary the shapes and sizes to give it even more visual interest.
Adding a bunch of different sized pumpkins is also a great idea instead of carved pumpkins, because they won't rot and can last all season if you want them to. 
5. Swap Outdoor Cushions
If you typically keep your outdoor cushions on your porch until the wintertime, consider picking up some new seasonally appropriate fabrics or pillow covers to help welcome the change of season. Varying shades of browns, golds, reds, and oranges, for example, are the easiest way to feel the autumn spirit. 
6. Grab a Bench
Planning on spending a lot of time on your porch as the season goes on? A great antique or contemporary bench is a great way to create additional seating and storage all in one. Pile some weather safe pillows or drape an outdoor blanket over the back for additional coziness. 
7. Place a Rocking Chair
Rocking chairs have been a porch staple for decades but they are particularly well-loved come autumn time. Any rocking chair will create a cozy and welcoming vibe but an antique or well-weathered chair will really complete the look.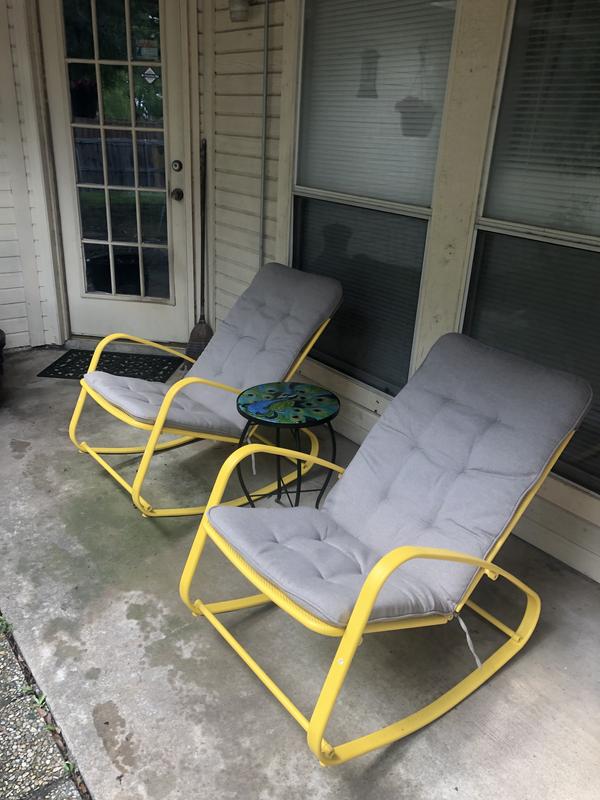 8. Consider a Fall-Inspired Banner
You might think of birthday signs or other overly thematic aesthetics when thinking of a banner, but not all banners are loud or overly attention-calling. There are plenty of ways to create a cute fall porch design using a simple banner—just be sure to look for neutral colorways and natural fabrics like burlap or cotton. These can easily be hung across your door for an easy and lightweight alternative to a wreath or strung across the patio railing for a festive addition to the exterior of your porch.