6 Small Front Porches with Big Style
Even the smallest front porch is a luxury that deserves as much attention to design as your interior space. Check out these modestly proportioned front porches that don't skimp on style, demonstrating the power of maximizing bonus outdoor space, enhancing your home's curb appeal, and helping to create a welcoming landing pad for both you and your guests. 
1. Pastel Pink
Your entryway is the first impression that people have when visiting. This porch uses Edison bulbs in lanterns to create a warm and inviting glow, and keeps things fresh by swapping out plants, rotating seasonal decorations, and changing the front door paint color on a whim. 
2. Double Benched
The small front porch is flanked with simple pale wood benches on either side of the enclosed landing space that add a modern touch to the space, with its vintage pendant light, arched windows, and elegant painted black and white moldings. 
3. Leafy and Romantic
This tiny house has a generous open front porch that creates extra outdoor living space. Classic decor choices and a tangle of climbing ivy create a lush, romantic setting. 
4. Small Swing
A hanging porch swing, rattan chairs, and blue and green throw pillows give this small front porch a natural sense of ease. 
5. In the Navy
The little front porch is designed to practically disappear into the facade, with a stone floor that matches the winding path to the front door, and a small bench painted in the same deep navy color as the rest of the house.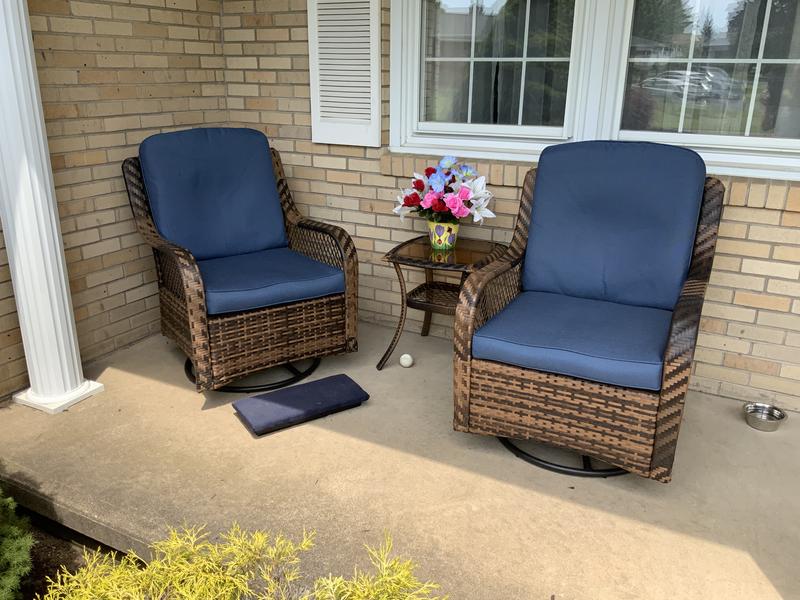 6. Sitting Room
Create an intimate outdoor living room feel in this small sitting area at one end of the front porch with "thrifted, vintage, new, and repurposed" decor.