20 Halloween Party Ideas - Food, Games and Decorations for Hosting
Halloween is one of the best holidays of the year, and not just for the kids! It's a night to let your imagination run wild, snack on sweets and look out for spooky surprises. Halloween parties are a great way to gather friends and neighbors for a fun fall evening. It's the perfect combination that brings food, games, costumes and decorative Halloween themes into one place.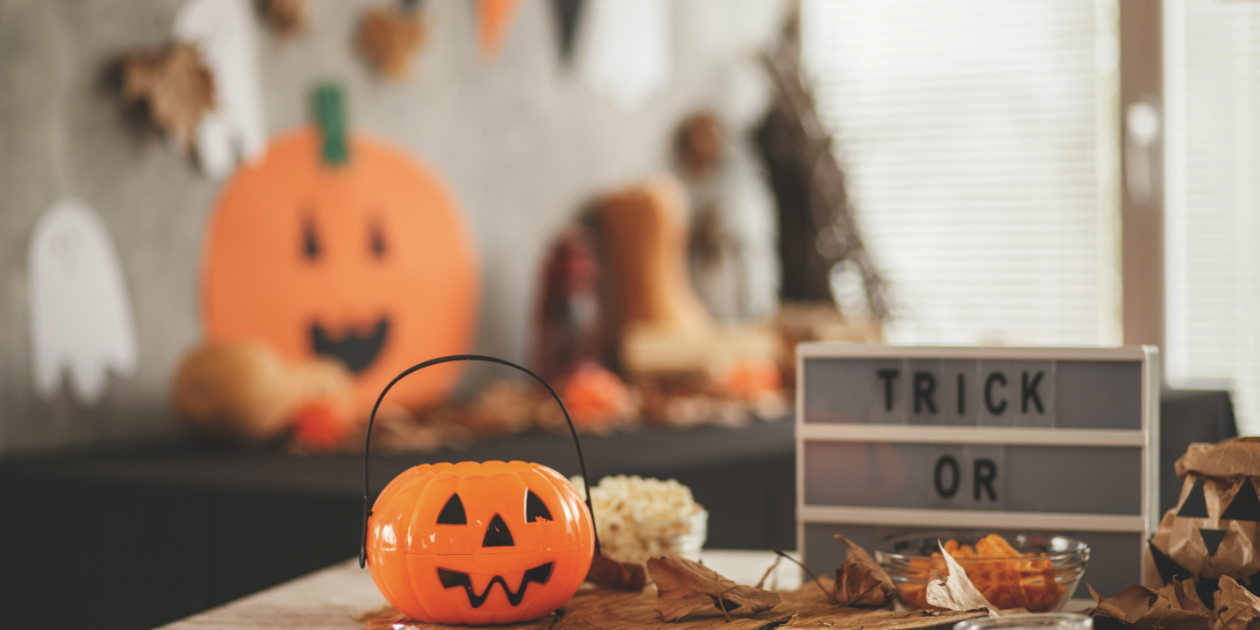 Set the Mood
Nothing kicks off your Halloween party like some good planning. Build anticipation for the event by picking themes and activities and inviting others to envision a night of fun or fright!
1. Host a Theme Party - Halloween is a theme on its own, but you can give your guests even more inspiration. Ask guests to come as a dead movie star, their favorite superhero or villain, a zombie or even a member of The Addams Family.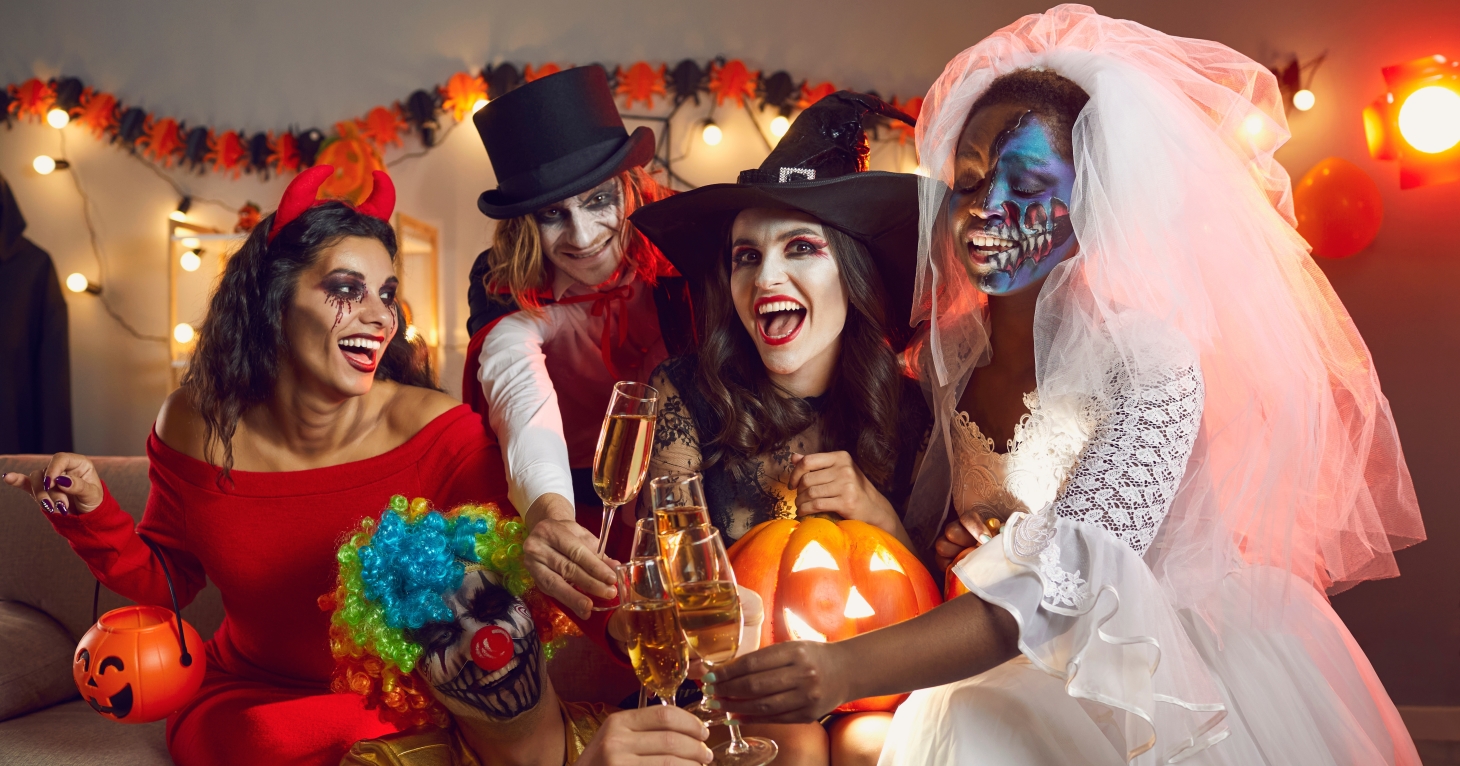 2. Send a Sign Up - Make the party planning easy by inviting your group with an online sign up. You can choose a festive Halloween theme, request party items and use the RSVP format to track attendance on your sign up.
3. Be Your Own DJ - Create a playlist of everyone's favorite Halloween songs (i.e. Monster Mash, Thriller, I Put a Spell on You). Ask your guests to send in song requests before your event.
4. The Right Light - Set up fog machines to "light" the way to your house and use black and neon lights inside. Hand out neon or glow stick necklaces when guests arrive to up to spooky factor even more.
5. Photo Booth - Designate a photo station or two with a themed backdrop such as the haunting front entrance or a spider web decoration. Stock up on some Halloween photo props and set up signs inviting guests to capture memorable moments. 
Food and Drink
Take your party to the next level with some themed food and drinks. You can even create a contest for most creative or best-tasting treats in order to encourage participation. It'll also be another event to add some extra fun to the evening.
6. Witch's Brew - Turn your favorite punch into a witch's brew by serving it in a giant cauldron and place a witch's hat nearby for a finishing touch.
7. Witch Fingers - Dip pretzel rods in white chocolate and place black jelly beans (or blanched almonds dipped in black gel icing) at the top to serve as the fingernails.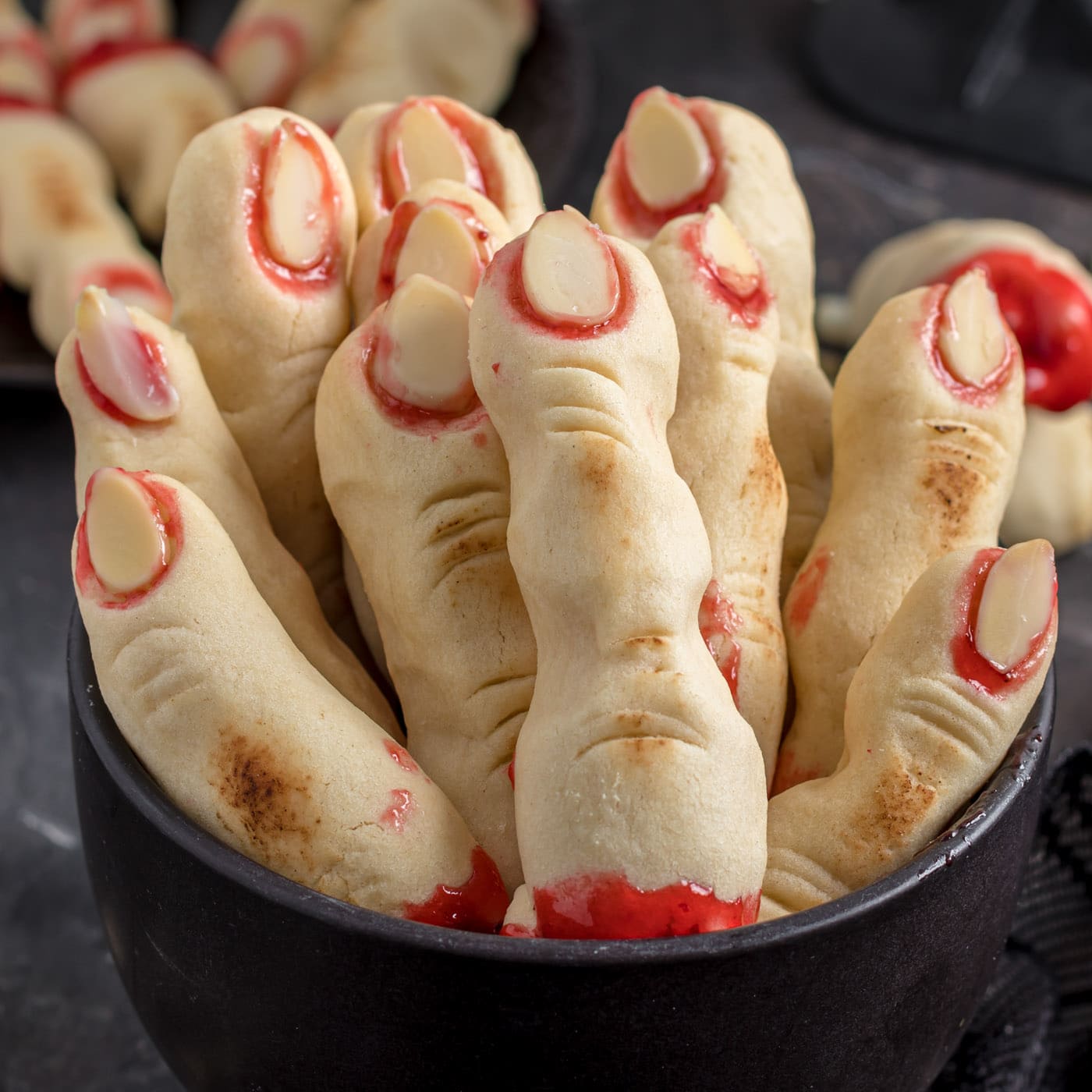 8. Blood Splatter Cookie Platter - Put sugar cookies on a platter, add red food coloring to melted white chocolate and splatter the cookies.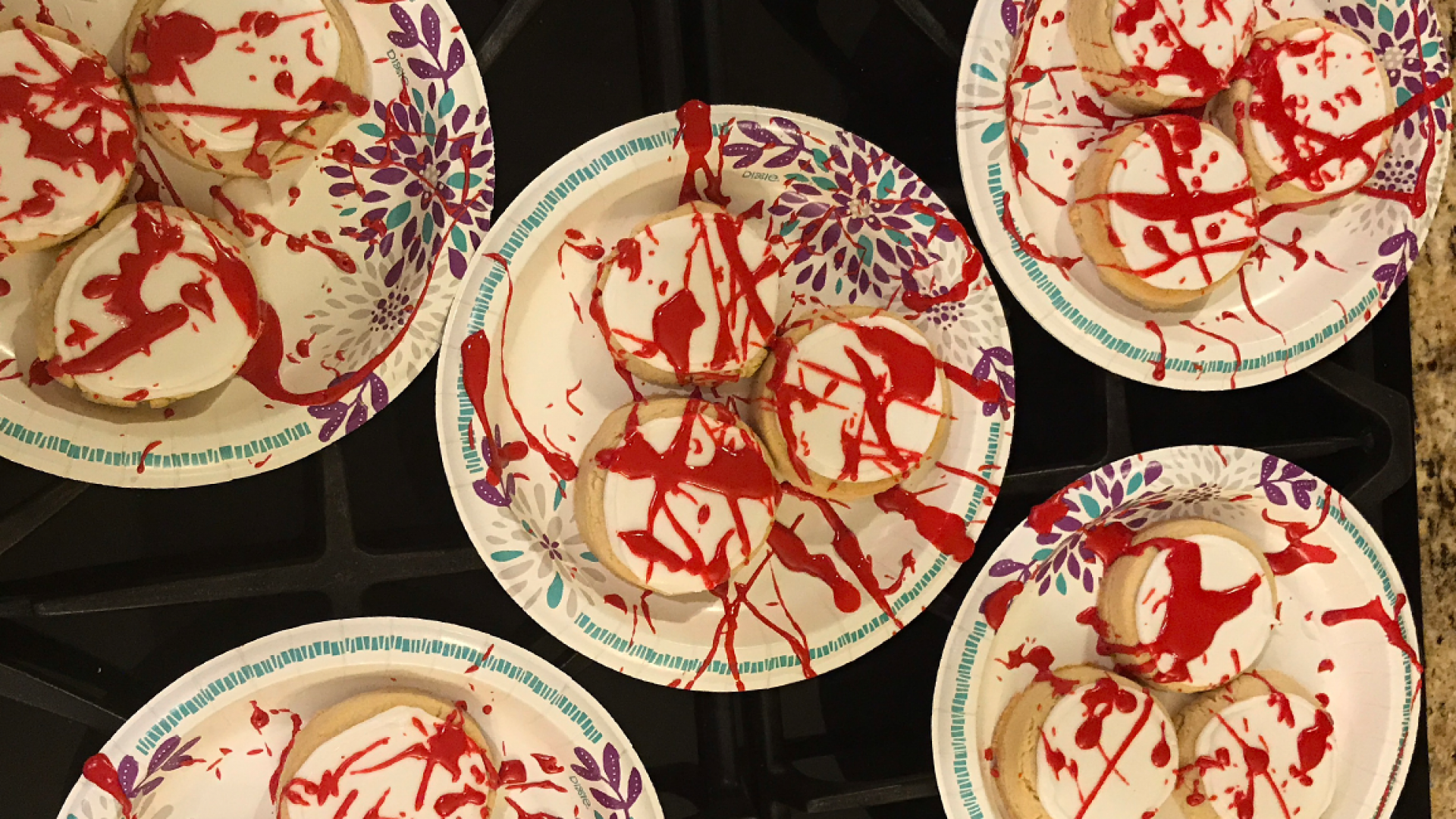 9. Frankenstein Rice Krispie Treats - With a little green food coloring, you can turn this classic snack into a fun Halloween treat. Just add a dash of green coloring to the mix and save some white marshmallows for the eyes. Dip the top into chocolate (to make his "hair") and you've got Frankenstein treats. 

10. Treats not Tricks - Set up a buffet-style arrangement of bowls filled with wrapped candy and Halloween-themed party favors. Give guests an (empty) goodie bag and let them choose how to fill it.
Decorations
Nothing sets the mood and feel of the evening more than some good decorations. Certainly, you can buy some decorations from the store, but nothing adds an extra touch like some good homemade decorative ideas.
11. Pumpkin Vase - Carve off the top of a pumpkin, clean out the guts and use to display a flower arrangement. 

12. Dry Ice - You can add ghostly effects to your party with dry ice in a variety of ways. Put a piece of dry ice inside a pumpkin and drop some water on it to activate the fog. You can use a nesting bowl to put dry ice inside a punch bowl, creating a smoky effect while keeping the dry ice separate. Make sure to follow safety guidelines for dry ice (it is not edible).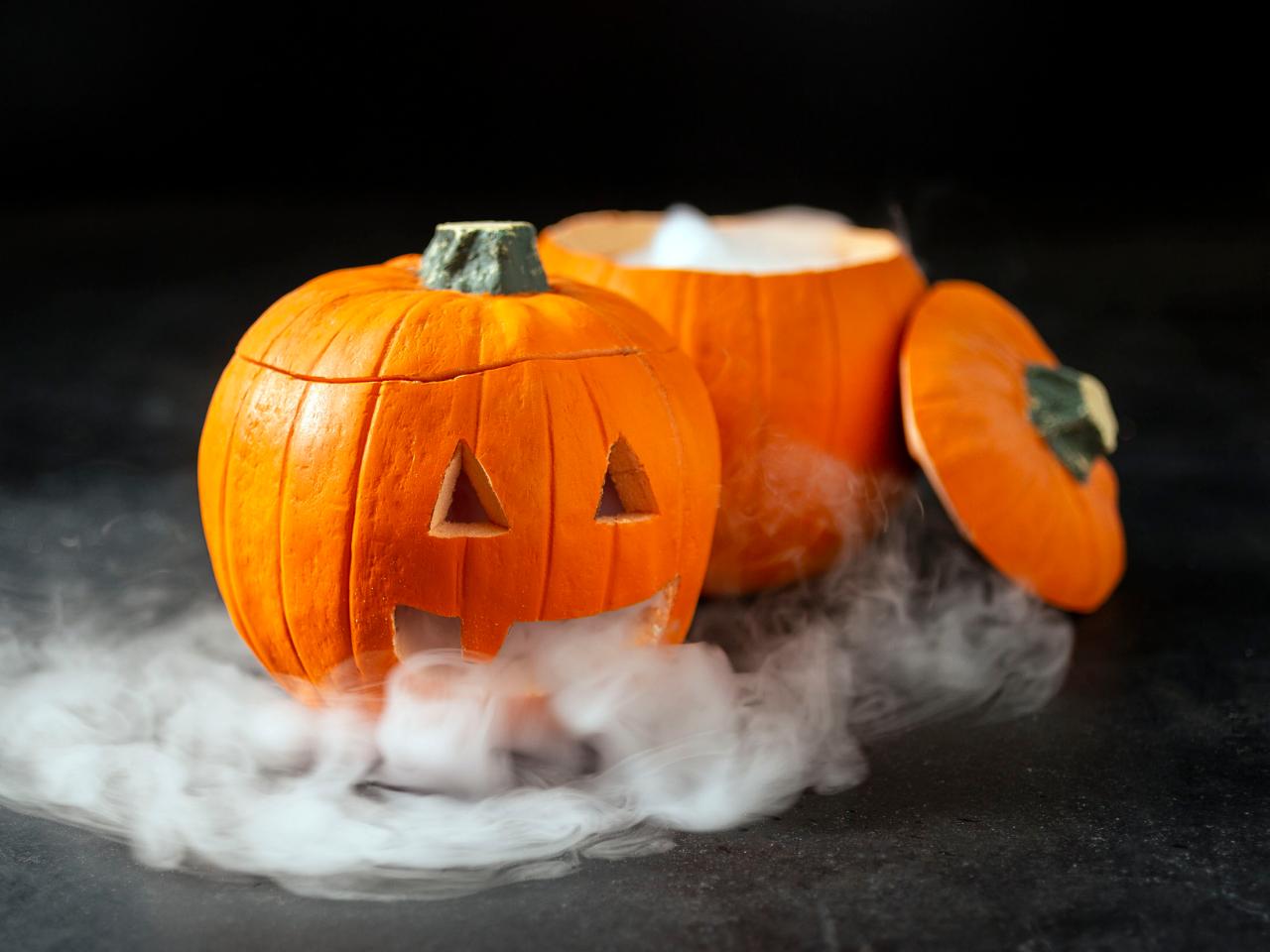 13. Pumpkin Punch Bowl - Follow the same steps as #14 to hollow out a pumpkin and use it as a serving bowl for your favorite punch.
14. Stuff a Scarecrow - Take old jeans and a plaid shirt and stuff them with packing material or pine straw, throw on a straw hat and give it a name.
15. Personalize Headstones - Have the kids help you make homemade headstones out of foam board – you can use guests' names and funny quotes to get a good laugh. 
Games
A good game really adds some fun and laughter to any party. This is no different with a Halloween party. Games are a great way to get people interacting and is one of the best ways to ensure your group is having a great time at the party.
16. Pick your Poison - Line up samples of different drinks and see how many each guest can get right in a blind tasting (can be anything from lemonade to Coke to milk). 

17. Name That Tune - Play clips of some favorite scary songs and have guests guess the song names.
18. Halloween Mad Libs - You can find Halloween Mab Libs online – ask your group to help fill in the blanks and share the wacky Halloween stories that ensue!
19. Pin the Bone on the Skeleton - Instead of pinning the tail on a donkey, grab a skeleton (or a printed version), blindfold guests and have them attempt to put a certain bone where it would be located on a body. 

20. Donut Dangle - Attach donuts to a string and then tie the strings onto a pole. Have a race to see who can eat the donut off the string (hands free!) the fastest.